Race Tech Gold Valves

Race Tech's revolutionary new G2-R Gold Valves are dual port pistons made of Billet Aircraft Aluminum and are MIL Spec Hard Anodized. G2-R Gold Valves are designed to optimize the loading of the shims while improving flow. These versatile valves blow away all previous limitations! Creates traction and a feel like no other valve in the World - guaranteed!

G2-R Gold Valves can be preloaded (digressive), freeloaded and/ or restricted (progressive). Available for Dirt, Street, Off-road or Supermoto Fork applications
Gold valve installation requires rebuild of forks ($65) and shock ($65)
Suspension tuned for rider's weight, ability and rider application
One on one tuning on site available!
NEW GOLD VALVE for 46MM/ 50MM SHOCKS
We offer our Shock Gold Valve Conversions for many applications. This will give you a factory ride for a fraction of the cost.
EBS can service convert most stock and aftermarket Shocks. Rebuild parts in stock. Call for more Info. 319.759.3303
GOLD VALVE EMULATORS and SPRINGS for VINTAGE MOTOCROSS BIKES
ATV Gold Valve Conversions
The ATV Gold Valve Conversion will transform your stock shocks into a high performance, state of the art, racing suspension.
The most challenging aspect of ATV Suspension Setup is there are practically no two bikes the same! With the massive number of A-Arm and wheel offsets available as well as the number of types and styles of riding, the combinations are staggering. Sure you can buy some off-the-shelf high-quality shocks but the chance that they are setup for you is unlikely!
Race Tech Fork Spring
These straight rate springs are manufactured from "Suspension" quality silicon wire, shot peened, heat treated, and %100 tested they are the finest available
Race Tech Shock Springs
Race Tech Inner Chamber Springs "ICS"
SHOWA and KYB pressure springs, rates range from 1.0kg to 2.2kg.
THE KTM 6326P Series Shock Springs

6326 Series Race Tech Shock Springs for KTM WP PDS
The stock KTM PDS rear suspension is generally very harsh and at the same time is easy to bottom. This is because the Leverage Ratio Curve does not have much rise in rate. The Race Tech progressive rear shock spring is actually MORE progressive than anything KTM ever produced for the WP's. It gives your KTM more resistance to bottoming and a more plush ride at the same time. No matter what you may have heard, a straight rate spring is not the way to go. Try it, you'll like it
Slippery, temperature stable, long wearing, non-foaming suspension fluid is the heart of a "no compromise" suspension setup. Race Tech Ultra Slick Suspension Fluid is the only fluid with this unique blend of aerospace fluids and additives.

- Extremely slippery
- Extremely high viscosity index (fade-resistant)
- Lasts four to five times longer.
- Exclusive anti-wear chemistry.
- Works in both forks and shocks.
- This fluid is serious about suspension
Rear Spring Kits
Race Tech specializes in Custom Suspension Setup! Whatever your particular requirements are, we can get you handled.
We also service, revalve, and respring all major ATV O.E.M. and aftermarket shocks including Ohlins, Fox, Custom Axis, Works Performance, P.E.P., Elka, KYB, and Showa.
Now servicing ATV shocks, including Custom Axis, PEP, and Fox Air Shocks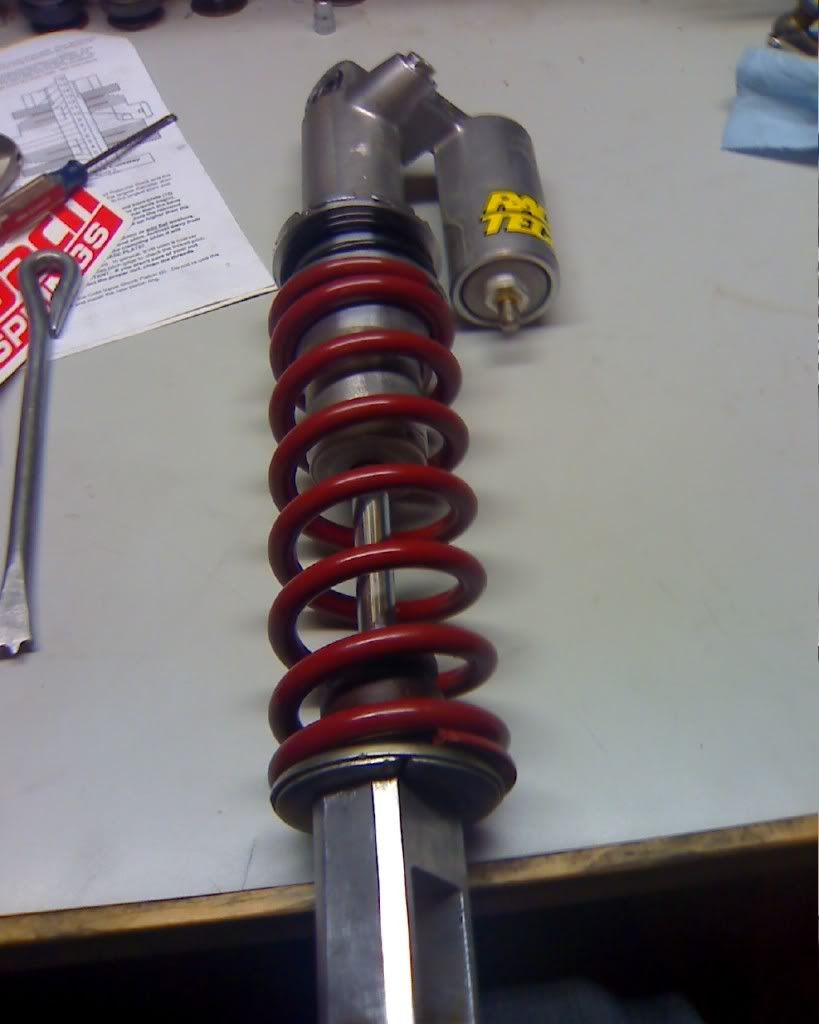 Chad Hutchinson's custom Yamaha YZF 450 Rear Shock with Race Tech Spring Kit and Gold Valve